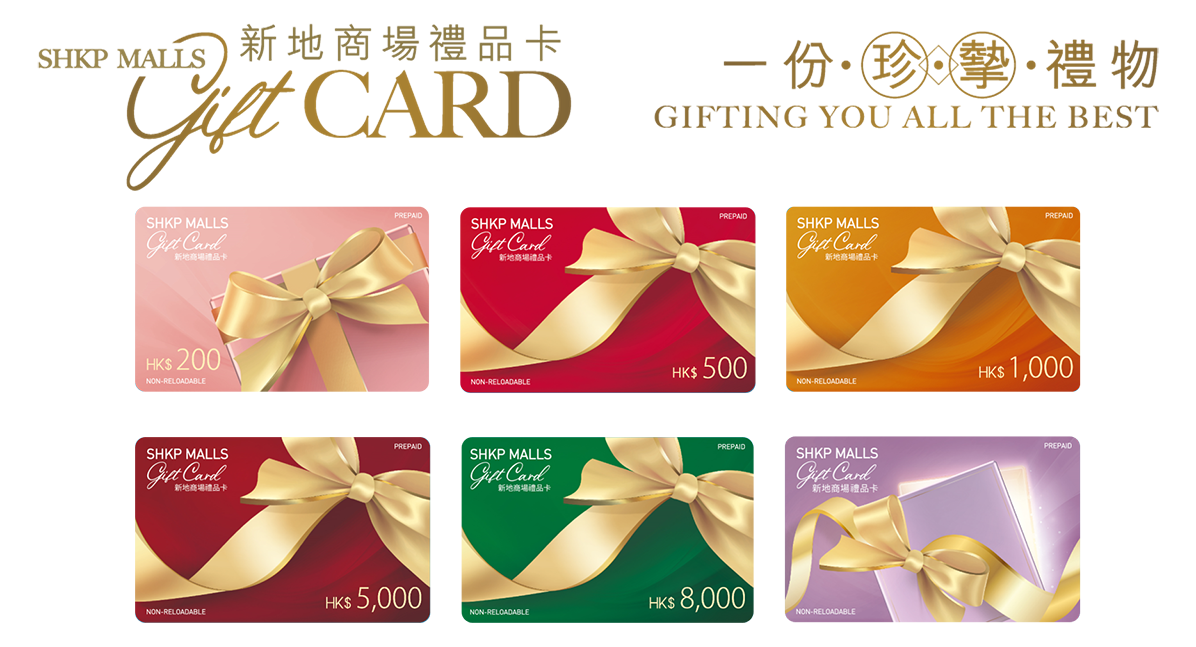 Available in pre-determined denominations of $200*, $500, $1,000, $5,000 & $8,000,
and custom denomination between $200 and $8,000,
the Gift Card is valid at over 1,900 outlets in below 24 SHKP Malls,
including retail chains, restaurants, cinemas, department stores, supermarkets,
electrical appliances outlets and a broad range of retail shops.
It provides a one-off gifting solution for both customers and corporates.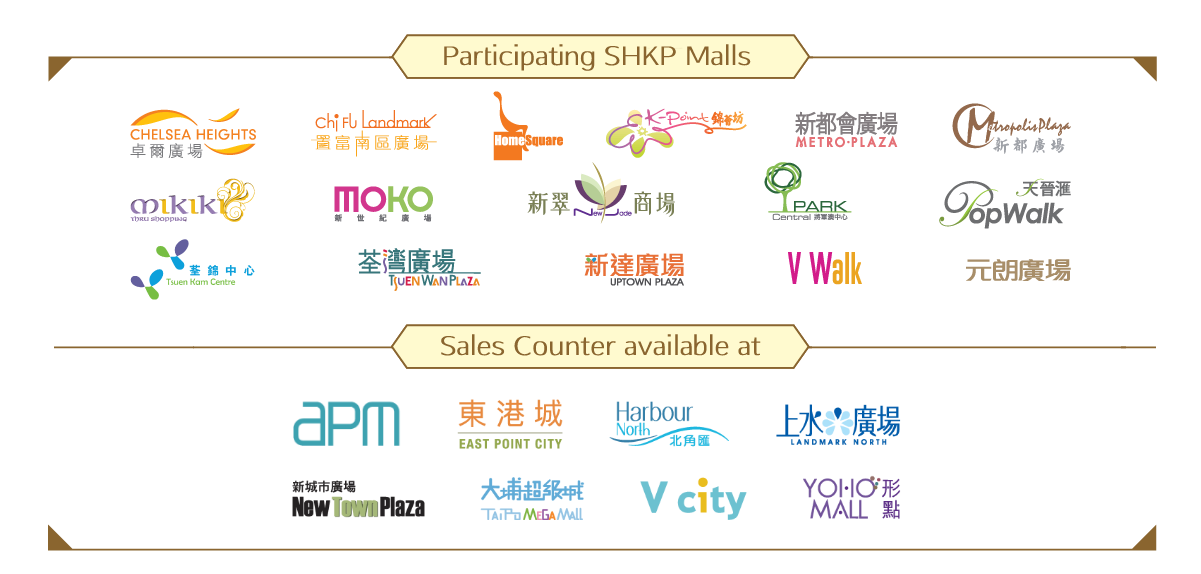 For corporate order,
please contact our Retail Marketing team at retailmarketing@shkp.com.
* SHKP Malls Gift Card in $200 and custom denomination are applicable to Corporate Order and Promotional Use only.
Not available for retail sales.
  Frequently Asked Questions    General Terms & Conditions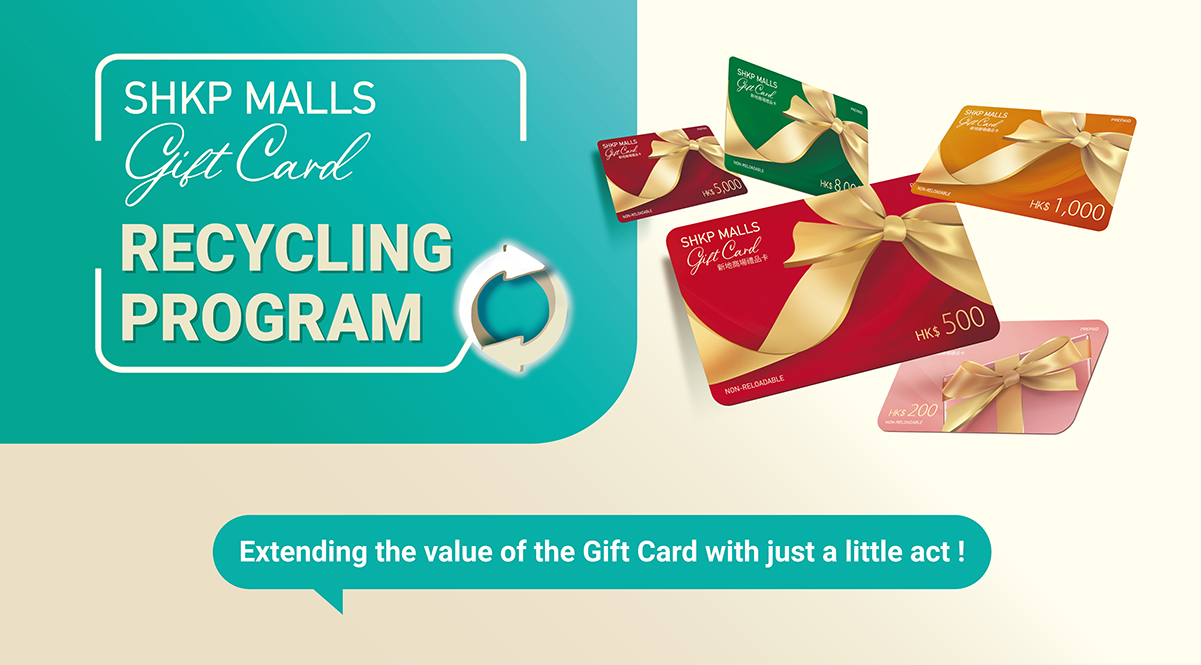 Return the used / expired SHKP Malls Gift Card NOW,
and we will re-use the collected Gift Cards
to produce environmentally friendly products!
Warm Reminders
SHKP Malls Gift Card is an anonymous prepaid card with no personal data stored. Customers can be reassured when returning the Gift Card.
Customers should check and confirm the Gift Card is expired or with no remaining balance before returning for recycling.
The Gift Card cannot be cancelled, returned, redeemed, reissued, refunded or exchanged for cash, other product(s) or service under any conditions once it is returned for recycling.
  Terms and Conditions of "Recycling Program"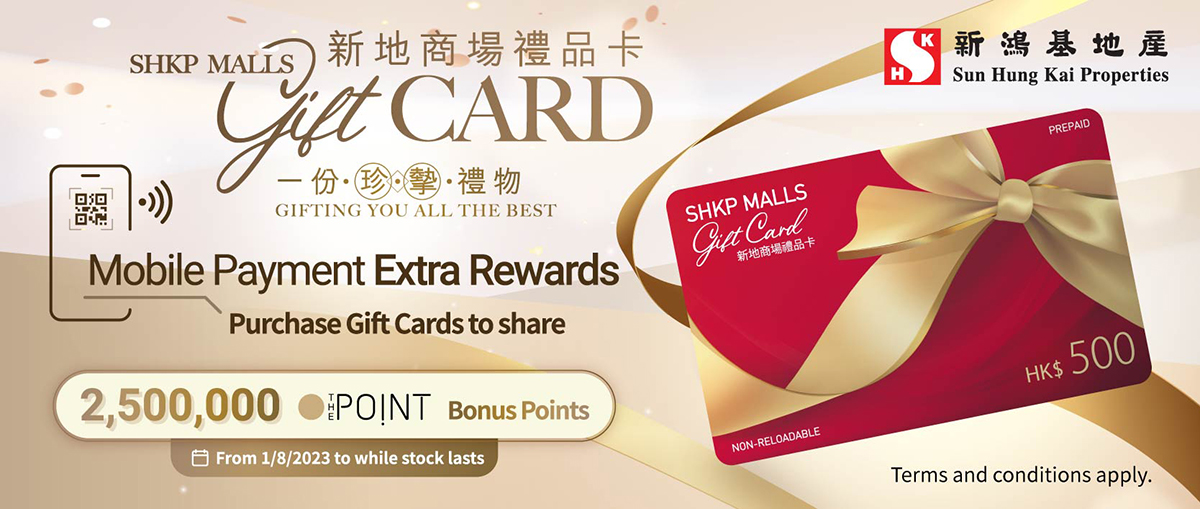 Eligible Participating Merchants:
---
Remarks:
The SHKP Malls Gift Card is issued by 33 Finance, which is one of the Stored Value Facility Licensees (licence number: SVF0010) authorized by the Hong Kong Monetary Authority.
The SHKP Malls Gift Card is a financial product that cannot be purchased by the Hong Kong Government's consumption vouchers.
Each person can purchase the Gift Card with a maximum total value of HK$25,000 per day.
The Gift Card is non-reloadable and cannot be cancelled, altered, redeemed, returned for refund, or exchanged for cash, or other product(s) or service(s) under any conditions once they are sold.
The Gift Card can be used on any day (including public holidays, festivals and sales periods).
The transaction to purchase the Gift Card is not eligible for registering The Point's bonus points or for joining other mall promotions. But eligible purchases made with the Gift Card (subject to The Point's terms and conditions) can earn The Point's bonus points and/or can be used to participate in in-mall promotions.
The Gift Card can be used in conjunction with The Point's Point Dollar / SHKP Mall Gift Certificate / SHKP Mall e-Gift Certificate.