Programme Features
Our two-month Summer Internship Programme gives undergraduates practical work and training exposure to SHKP's property and non-property portfolio businesses.
Orientation

Interns will gain a better understanding of our core business and departmental operations through seminars and site visits to various properties and business units

On-the-job Training

Interns will be attached to a department to gain hands-on experience, working on assignments and projects under the coaching of departmental supervisors

Training workshops

Interns will be invited to join tailor-made training workshops to enhance management skills and personal development

Collective Learning

Interns are expected to share their learning experiences by delivering presentations at the end of the internship programme

Feedback and Performance Evaluation

Department supervisors will provide feedback on interns' performance to help them identify their strengths and potential for future career development

Employment Opportunities / Career Opportunities

Interns with outstanding performance will be offered a fast track in our Graduate Trainee Programme selection
Requirements
We are looking for high-calibre students from Hong Kong or overseas universities who meet the following criteria:

Strong initiative and commitment
Proactive and highly devoted to work, making every effort and contribution to accomplish tasks

Strong analytical and problem-solving abilities
Strong reasoning, logical mind and quantitative skills to properly identify and approach issues, has good judgments and can affect practical solutions

Teamwork orientated
Works closely with others as a team to build trust and relationships that yield positive work results

Good communication and presentation skills
Clear and concise verbal and written communication skills; able to make high impact presentations; proficient in both English and Chinese

Desire to learn and a winning attitude
Strong will to embrace and/or lead change in order to seek continuous improvement and success

Leadership potential
High potential to motivate and lead teams to perform effectively while developing individuals
---
Job Functions
China Affairs
Conduct China social & real estate research and macro-economic analysis
Report writing on China policy updates
Data Analytics
Collect residential property market data and information from different sources & update relevant database
Support data processing & validation and assist in reports preparation & automation
Knowledge of Python, SQL, Tableau or web scraping will be an advantage
Data Science
Assist in extracting, transforming, loading of data from a wide variety of data sources using SQL and AWS 'big data' technologies
Support master data management including creation, updates and deletion
Support the data needs of the Data Science team, which can include analytical data modelling, data discovery and documentation
Helping develop reports and dashboards from single or multiple systems
Knowledge of Python, SQL, Tableau will be an advantage
Digital Engagement
Perform research on new digital technology & market trends, e.g. ESG, data and cyber security
Prepare analysis reports on trends and customer behavior
Support digital projects across various line of businesses
Prepare regular reports on project progress or insights sharing
Economic and Property Research
Assist in economic & property market researches
Maintain and update relevant databases
Perform ad hoc researches as assigned
Industrial and Logistics Portfolio (Leasing / Property Investment)
Leasing
Support leasing & marketing of industrial / commercial properties include providing lease administration support, preparing marketing materials, collecting market intelligence & conducting business analysis, etc.
Property Investment
Conduct market researches & feasibility studies, support presentation material & compile various reports; Undergraduate in surveying or real estate preferred
Market Research (Quantitative)
Support market research projects include questionnaire design, conducting interviews, data processing & analysis, report writing, etc.
Conduct desk research and analyse information from online and/or offline sources
Strong MS Excel and PowerPoint skills, some knowledge of SPSS, R, SQL, VBA, Python, Tableau will be an advantage
Undergraduates in Statistics, Mathematics, Data Analytics, Quantitative Analysis, Marketing, Business or a related discipline preferred
Market Research (Qualitative)
Support market research projects include discussion guide design, conducting interviews, data analysis, report writing, etc.
Conduct desk research and analyse information from online and/or offline (e.g. publications, papers, articles) sources
Assist in digital and social media analysis work
Open-minded, good interpersonal skills, proficient in speaking and written English and Chinese
Undergraduates in Business, Marketing, Social Science, Psychology, Humanities or a related discipline preferred
Non-Property Portfolio Businesses
Assist in research projects and support business analysis for the Group's non-property business units
Office Leasing
Conduct market research and analysis for office properties
Residential / Serviced Apartments Leasing
Assist in handling daily leasing enquiries, marketing and tenancy matters for residential properties or serviced apartments
Provide quality service to customers in various aspects, including planning & organizing guest events and designing newsletters
Conduct research for residential properties
Retail Leasing
Conduct market research & analysis for shopping malls
Assist in preparing materials for leasing presentation
Provide support on lease administration and reviews
Retail Marketing & Customer Relations
Conduct marketing research & analysis on retail market trend
Assist in planning, organizing and implementing various cross-mall marketing activities
SHKP Club & Marketing
Assist in SHKP Club members recruitment programs & related promotional activities
Assist in members workshop coordination and copywriting & translation
Support promotional activities of Loving Home Campaign
Provide other marketing supports
Shopping Mall Promotions
Assist in organizing and implementing promotional events of shopping mall
Involve in social media management in promoting the shopping mall
The Point (SHKP Mall Loyalty Program)
Provide data analytic support, knowledge in SQL and Tableau an advantage
Assist in managing the rewards platform and partnership event operations
Support digital marketing and CRM campaigns
---
Recruitment Timeline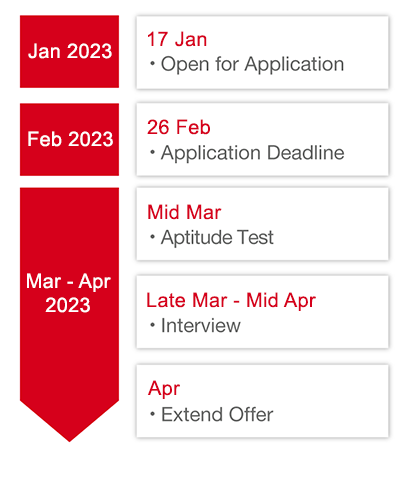 ---
Contact Us
You can contact us by filling online form, sending email or fax.
Human Resources Department
Fax: (852) 2827 8039
Email: hrm@shkp.com