Programme Features
Our company has participated in the Scheme on Corporate Summer Internship on the Mainland and Overseas which is an initiative of the HKSAR government which aims at providing quality internship places on the mainland and overseas for local tertiary students in the summer of 2019. Our Summer Internship Scheme on the Mainland will last for eight weeks and give undergraduates practical work and training exposures to SHKP's property businesses on the mainland.
Orientation

During the first week of the Programme, interns will stay in Hong Kong to gain a better understanding of our core business and departmental operations through seminars and site visits to various properties and business units

On-the-job Training

In the remaining seven weeks of the Programme, interns will be attached to a department on the mainland to gain hands-on experience, working on assignments and projects under the coaching of departmental supervisors

Feedback and Performance Evaluation

Department supervisors will provide feedback on interns' performance to help them identify their strengths and potential for future career development

Employment Opportunities / Career Opportunities

Outstanding interns will earn direct entry into the Assessment Centre of the SHKP Management Trainee selection
Requirements
We are looking for high-calibre Hong Kong students from local or non-local universities who meet the following criteria:

Strong initiative and commitment
Proactive and highly devoted to work, making every effort and contribution to accomplish tasks

Strong analytical and problem-solving abilities
Strong reasoning, logical mind and quantitative skills to properly identify and approach issues, has good judgments and can affect practical solutions

Teamwork orientated
Works closely with others as a team to build trust and relationships that yield positive work results

Good communication and presentation skills
Clear and concise verbal and written communication skills; able to make high impactful presentations; proficient in both English and Chinese

Desire to learn and a winning attitude
Strong will to embrace and/or lead change in order to seek continuous improvement and success

Leadership potential
High potential to motivate and lead teams to perform effectively while developing individuals
---
Job Functions
Shanghai
Investment & Acquisition
Office Sales and Leasing
Retail Leasing and Promotion
Residential Sales
Beijing
Investment & Acquisition
Retail Leasing and Promotion
Guangzhou
Retail Leasing and Promotion
---
Application Method
The Scheme on Corporate Summer Internship on the Mainland and Overseas 2019 is a joint initiative between the HKSAR Government, Sun Hung Kai Properties and 17 other major companies in Hong Kong. Any student who is interested in applying for an internship placement offered by Sun Hung Kai Properties under the Scheme should submit his/her application through the Government's central online application system (www.ydc.gov.hk/scsi/) by 23:59 22 March 2019 HKT. Sun Hung Kai Properties will not be accepting applications from students direct at this stage.
---
Recruitment Timeline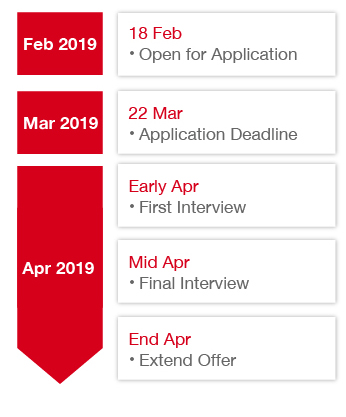 ---
Contact Us
You can contact us by filling online form, sending email or fax.
Human Resources Department
Fax: (852) 2827 8039
E-mail: hrm@shkp.com